If you've been reading House Revivals for very long, you will know about my love affair with reused, reclaimed, and re-purposed items. After all, why buy new, when you can buy used, right?
I adore architectural salvage. As an interior designer, I love the idea of giving a design project "soul" by including items that have a story to tell.
As a craft and design blogger, I love looking for ways to use reclaimed items that are economical, sustainable, and creative.
The thing that is great about architectural salvage stores, is that all these cool items have been gathered together in one place, saving you countless hours running around! A small remnant of antique tile or an antique keyhole might make a gorgeous pendant. I've seen amazing chandeliers crafted from vintage door knob plates.
A hubcap might make a fun flower on your garage wall. A vintage window may be transformed into statement art -- or maybe a cubicle divider in a boutique office environment.
Vintage light fixtures can pull your space from ordinary to extraordinary.
Old hand painted trunks, like this physician's trunk can be transformed into lovely storage pieces. Add wheels to give it an industrial edge! If you use the piece as a coffee table, adding wheels is an easy way to give seated individuals a little "kick" space. Have you ever been to someone's house, where there was no room for your big old feet between the sofa and the coffee table, and you spent the entire time squirming and twisting?
When I saw this reclaimed parking payment box recently, I thought it would be right at home in the living room of a downtown loft! The possibilities for adaptive reuse are endless.
Signs can be repurposed as they are, to create unique wall art; or they can be transformed into funky furniture pieces.
There are so many options, so many opportunities. Why fill your space with exactly the same thing your neighbor has?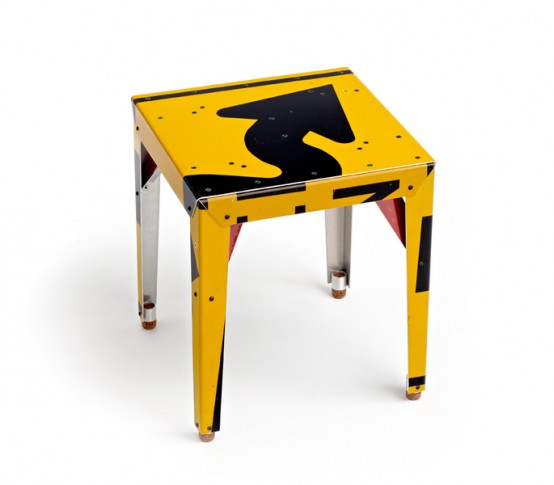 I recently found lots of fun little metal locker basket tags that will be fun to use in jewelry making. I'm loving all the "salvaged" jewelry I've been seeing on Pinterest!
If you enjoyed this post, be sure to hit subscribe, in the upper right of this page. Please feel free to use the icons below this post to share on social media. For another post on using reclaimed items in your home,
click here!